Moxa Launches Industrial Intrusion Prevention Systems on Its All-in-one Secure Routers to Protect Critical Infrastructure
Press release published on October 12, 2022
Today, Moxa is excited to launch industrial intrusion detection/prevention systems (IDS/IPS) on its alongside the MXsecurity industrial security management software, expanding its product portfolio with advanced cybersecurity and purpose-built management solutions. The EDR-G9010 Series is an all-in-one secure router with firewall/NAT/VPN/switch functionality. The addition of IDS/IPS turns the EDR-G9010 Series into an industrial next-generation firewall, equipped with threat detection and prevention capabilities to further protect critical infrastructure from cybersecurity attacks. Meanwhile, MXsecurity is a tailor-made security management suite that provides real-time visibility of cyberthreats and allows users to centrally manage EDR-G9010 Series secure routers in the field.
Since their launch in 2021, the EDR-G9010 Series secure routers have helped built a robust, first-line network defense for industrial automation and control systems (IACS) in multiple industrial sectors such as energy and intelligent transportation systems. However, recent cybersecurity incidents have shown that industrial organizations are still struggling to fully mitigate risks due to difficulties upgrading and safeguarding their facility's industrial network. Therefore, organizations are looking for purpose-built cybersecurity solutions for industrial environments that are designed with industrial engineers in mind. The EDR-G9010 Series all-in-one secure routers and MXsecurity industrial security management suite provide the answer.
"Committed to building secure networks and protecting our customers' industrial operations, Moxa unites networking and industrial cybersecurity to create defense-in-depth protection. To achieve this, we leverage the EDR-G9010 Series' robust perimeter protection and its advanced IPS threat intelligence powered by Moxa's tailor-made OT deep packet inspection platform." says Kevin Huang, Product Manager at Moxa Networking. "Although, we noticed that, while our customers understand the importance of cybersecurity, they often encounter challenges when deploying and operating cybersecurity measures in the field. We believe MXsecurity can help our customers streamline network security management by visualizing cybersecurity threats in real-time while simultaneously reduce operating costs."
These solutions are built for reliability and end-to-end connectivity to create durable, high-performance industrial networks. With support for virtual patching, the EDR-G9010 Series also helps protect legacy systems from vulnerabilities, giving industrial engineers more time and flexibility to keep industrial operations up and running. Moxa's solutions enhance visibility with centralized management, mass deployment, and real-time monitoring to help users create a secure and efficient industrial networking environment.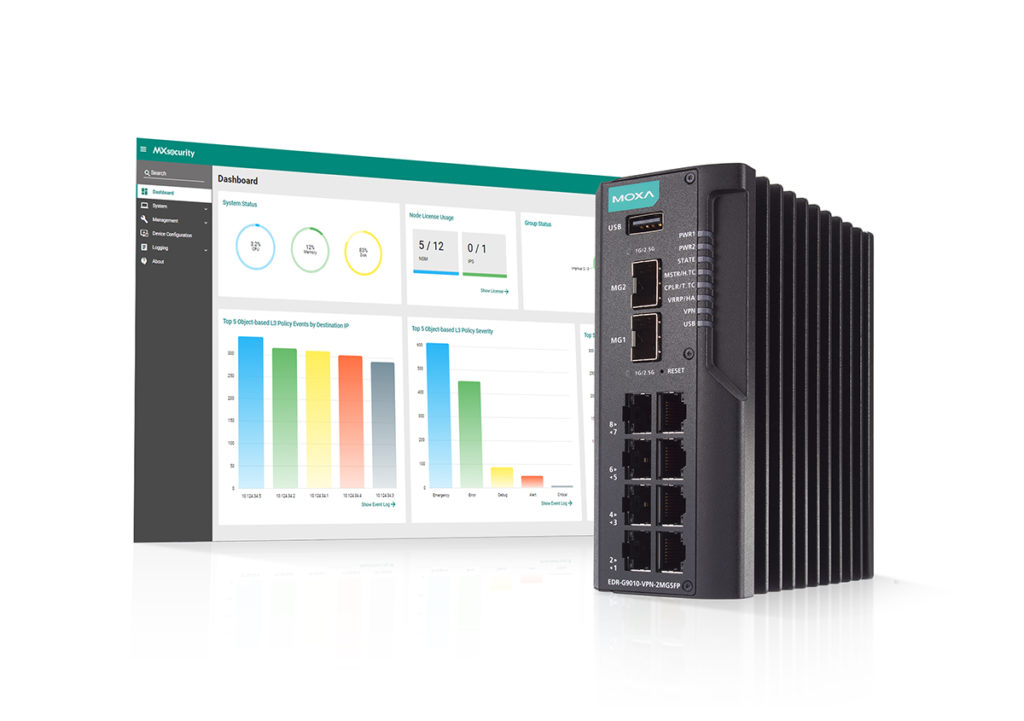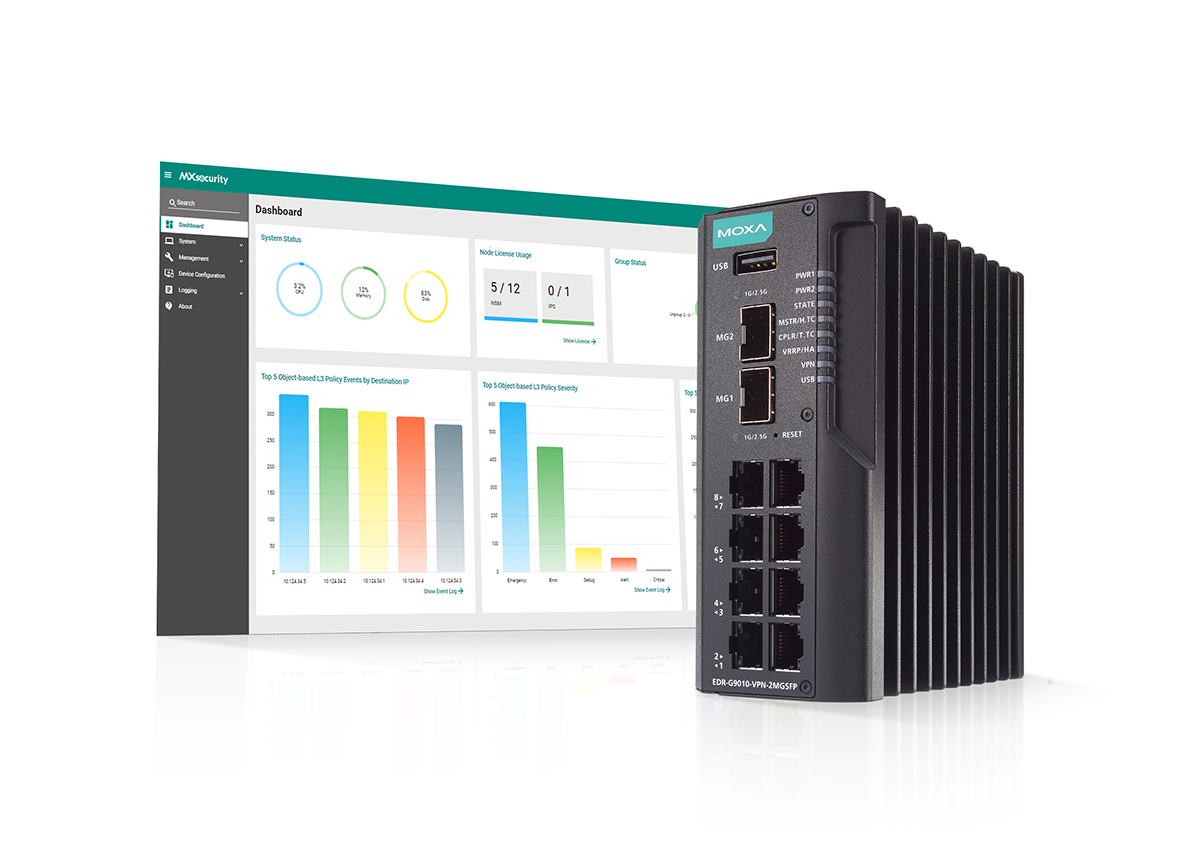 EDR-G9010 Series Industrial Secure Routers
Industrial intrusion detection/prevention systems (IPS/IDS) to further protect critical industrial infrastructure
All-in-one firewall/NAT/VPN/router/switch to increase network deployment flexibility and enable secure remote access
8 copper GbE and 2 SFP GbE ports for high-bandwidth, long-distance communications
Supports VRRP and Turbo Ring for routing and switching redundancy to optimize availability
Deep Packet Inspection (DPI) for Modbus TCP/UDP, DNP3, IEC 60870-5-104, and IEC 61850 MMS traffic filtering
MXsecurity Industrial Security Management Suite
Centralized management and monitoring of EDR-G9010 Series devices for better administration and maintenance
Unified mass deployment of firewall policies, firmware upgrades, and signature updates
Complete visibility showing real-time network activity and instant threat alerts
Automatically collects security logs and sends notifications
For more information about the EDR-G9010 Series, visit the product page or the microsite.
About Moxa Secure Networking Solutions
As a leader in industrial networking for over 35 years, Moxa is committed to developing secure and reliable networking solutions that proactively identify and mitigate cyberthreats in OT environments. To fulfill this commitment, Moxa strictly follows secure-by-design practices, utilizes distributed OT intrusion prevention system capabilities, and offers a broad portfolio of rugged networking solutions based on the IEC 62443-4-2 standard to strengthen in-depth defense for industrial applications. Visit the Moxa Secure Networking microsite for more information.
About Moxa
Moxa is a leading provider of edge connectivity, industrial computing, and network infrastructure solutions for enabling connectivity for the Industrial Internet of Things. With 35 years of industry experience, Moxa has connected more than 82 million devices worldwide and has a distribution and service network that reaches customers in more than 80 countries. Moxa delivers lasting business value by empowering industry with reliable networks and sincere service for industrial communications infrastructures. Information about Moxa's solutions is available at www.moxa.com.
Press Contact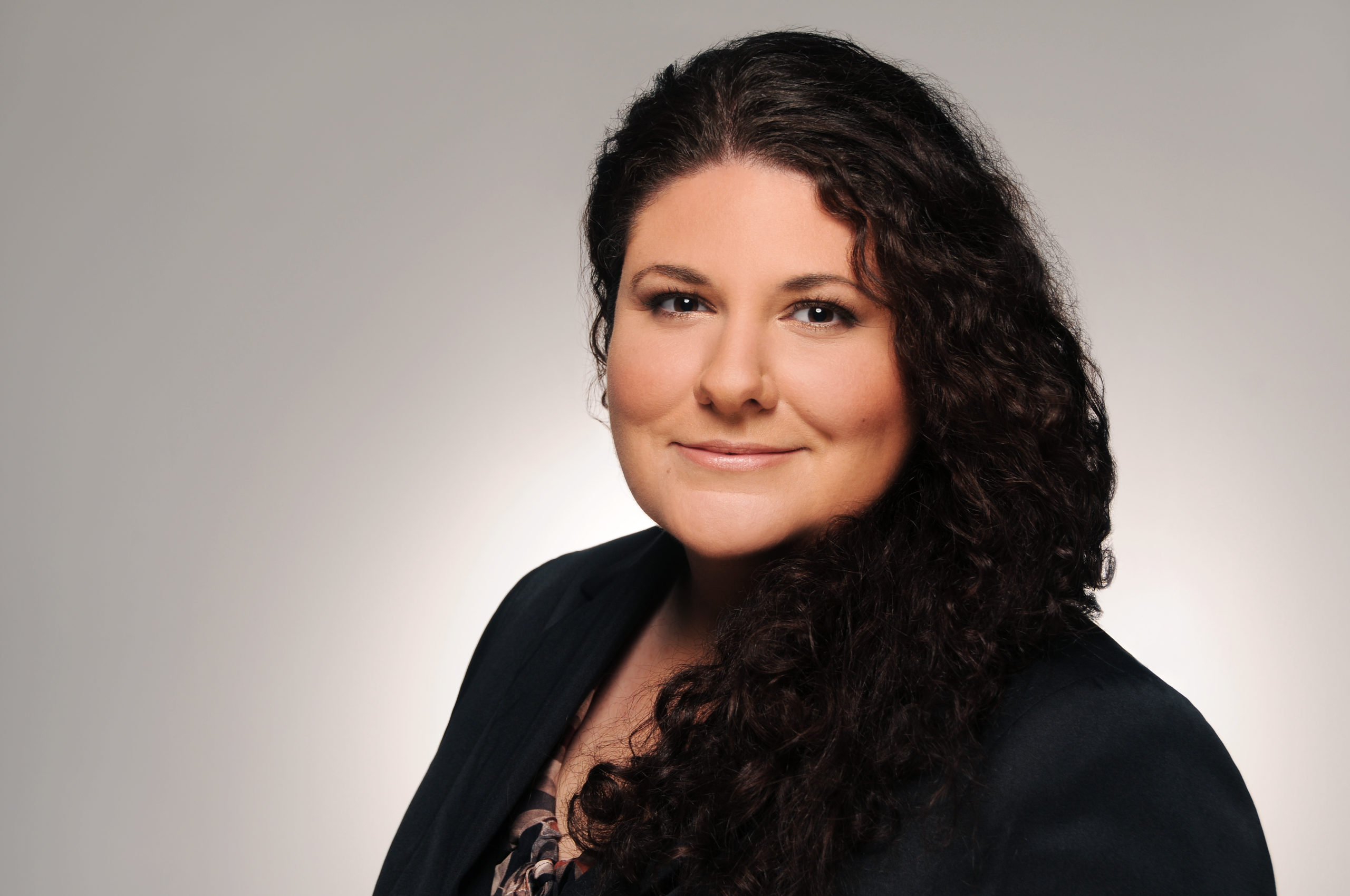 Daniela van Ardennen
Advertising & PR Manager