TeamViewer is a leading global technology company that provides a connectivity platform to remotely access, control, manage, monitor, and repair devices of any kind – from laptops and mobile phones to industrial machines and robots
Read more
TeamViewer proactively shapes digital transformation and continuously innovates in the fields of Augmented Reality, Internet of Things and Artificial Intelligence. The TeamViewer IoT Solution enables you to instantly connect, monitor, and operate assets in manufacturing and production – securely, quickly, and across locations.
TeamViewer IoT gives you full visibility into all IoT devices with real-time status alerts and early insights, so you can react immediately to mitigate risks and proactively solve issues before they impact your business. Increase efficiency and reduce operational costs, while maximizing machine uptime and performance with secure remote connectivity, threshold alerts, and data insights for smart workflow automation and performance predictions.
Quickly set up secure Remote Operations, Remote Assistance, and Remote Alarming for distributed endpoints with an easy-to-use, reliable, and scalable cloud IoT solution.
For more information, please click here.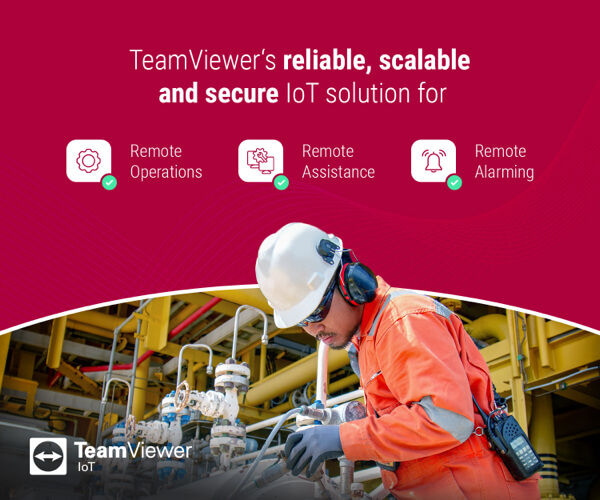 TeamViewer Frontline is one of the world's first unified wearable computing platforms. With fully hands-free and highly intuitive visual solutions, Frontline is designed to improve work efficiency and simplify processes, helping companies gain a competitive edge with the latest augmented and assisted reality (AR) technology.
Designed around four core AR solutions — xPick for logistics, xMake for manufacturing, xInspect for service and maintenance, and Assist AR for remote assistance — TeamViewer Frontline supports deskless workers across all industries in their daily tasks along the entire value chain. The solutions make information and digital documentation tools directly accessible in the worker's field of vision leveraging use cases that benefit from hands-free wearable computing.
For more information, please click here.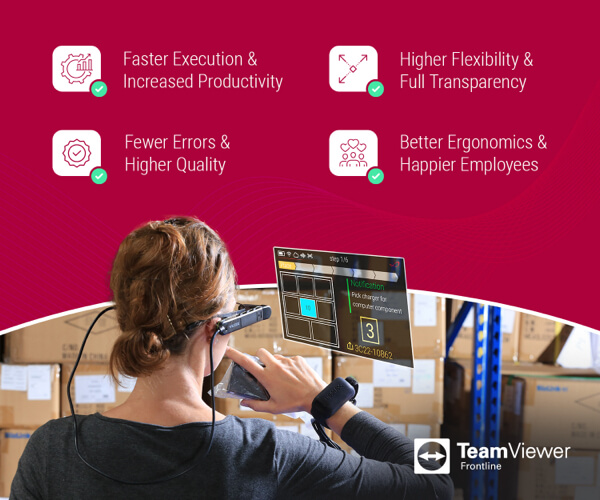 Industry, Applications & Use Cases
Discover how you can benefit from our partnership by viewing below qualified projects or get in touch with us directly
Description
Many industries have stringent security measures which limit the exposure of business-critical equipment to the internet. This hinders the end-user and Original Equipment Manufacturer (OEM) from utilizing remote support technology when assistance is required. There is a need in the market for a trusted mechanism of delivering remote support for such circumstances.
The TeamViewer IoT Attended Access feature allows the end-user's equipment to be accessed and supported remotely and securely. Attended Access allows an OEM to offer remote support for a machine, only when requested by and in the presence of the end-user. The end-user is always in control of the machine and the support session, eliminating any privacy or security concerns. Thereby, the OEM is now able to provide remote support in a trusted manner, ensuring machine uptime and customer satisfaction.
The Challenge
Stringent security measures limiting the exposure of business-critical machines to the internet and hindering end-user and OEM from utilizing remote support technology to its fullest advantage
Factory environments are extremely secure in several industries
Such customers treat any incoming or outgoing connections with suspicion
OEMs cannot provide remote support as there is a fundamental lack of trust
The Solution
Attended Access allows the end-user's machine to be accessed and supported remotely without compromising privacy and security.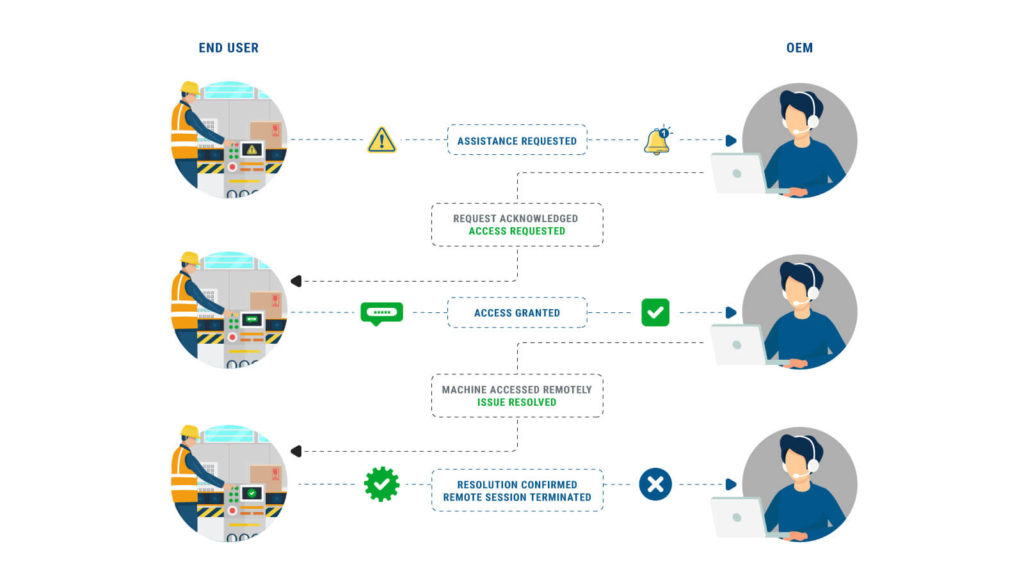 Why TeamViewer
The TeamViewer IoT Attended Access feature is unique in its ability to allow remote support access only when required by the end-user. The end-user is in control of initiating and terminating the session and thereby, ensuring security and privacy are not compromised.
Why Moxa
Moxa provides the IIoT infrastructure for remote access. Whether it is about integrating TeamViewer-enabled IIoT gateways into an existing network environment or an independent access to industrial assets via LTE, Moxa has the portfolio to build the industrial infrastructure to last 5, 10 or more years.
Description
TeamViewer offers an advanced streaming analytics and automation platform to trigger and notify the right field service experts with diagnostics and recommended service workflows. Enables useful condition monitoring to diagnostics and supports the journey to predictive maintenance.
The Challenge
Organizations waste too much time and resource in providing an inefficient field service operations and customer experiences are affected.
The Solution
Machine state and condition are key to decide the best work or resolution to be conducted. It codifies the experience and process gained from domain experts.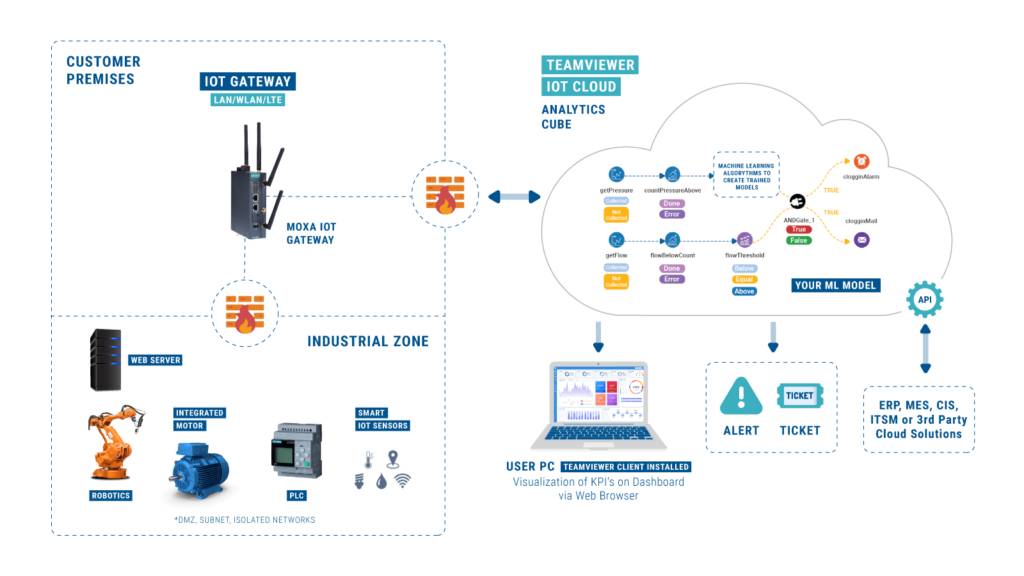 Why TeamViewer
TeamViewer provides an end-to-end solution from monitoring to workflow creation to access of devices via IT service management (ITSM).
Why Moxa
Reliable connectivity is key for condition monitoring of industrial assets. Moxa's networking, connectivity and particular it's IIoT gateway and edge computing portfolio gives service and maintenance operations worldwide the reliable hardware platform for TeamViewer IoT to provide great service to their customers.
Description
TeamViewer Frontline is a fully integrated Productivity Solution Platform providing use cases in logistics, maintenance, assembly, and remote support.
The Challenge
One of the greatest challenges for many industrial companies is a fragmented enterprise digitalization. While the digitalization of the shop floors proceeds and most operators acknowledge the advantage of connected machines, one key component is often left out of the digital transformation: the human worker. 80 % of the global workforce are working deskless jobs with only limited access to digital tools. Missing out on those digital tools as well as a lack of ergonomics with existing tools and hardware leads to ineffective performance and dissatisfied workers.
The Solution
TeamViewer Frontline solves this problem by connecting the shop floor worker to the system. With a human-centered software design and wearable computing TeamViewer Frontline provides frontline workers with the tools they need to succeed in their daily jobs and real-world tasks. The use of wearables (e.g., smart glasses, smartphones, or tablets) to support manual work increases the productivity and quality while simultaneously reducing training time and costly downtime. As an example, augmented reality (AR) can be used to guide technicians through their maintenance workflows and to record their proof-of-service and inspection findings digitally, with no risk of human error in real time.
Why TeamViewer
TeamViewer is a leading global technology company with cross continental operations offering international support
TeamViewer's solutions are industry-proven and trusted by leading global logistics and manufacturing companies for years
TeamViewer Frontline is OS agnostic and can therefore be easily integrated in the existing IT hardware and software management
Why Moxa
Moxa provides a scalable open hardware platform for IIoT gateways and industrial edge computers, which all support TeamViewer IoT. Even Frontline Command Center can run on premise on Moxa's high-end industrial edge computers like the MC-1200. In addition, TeamViewer together with Moxa's IIoT Service Partners offer zero touch provisioning service by preparing the individual gateways before shipping, to the extent that they can simply be installed without further configuration needed by local staff.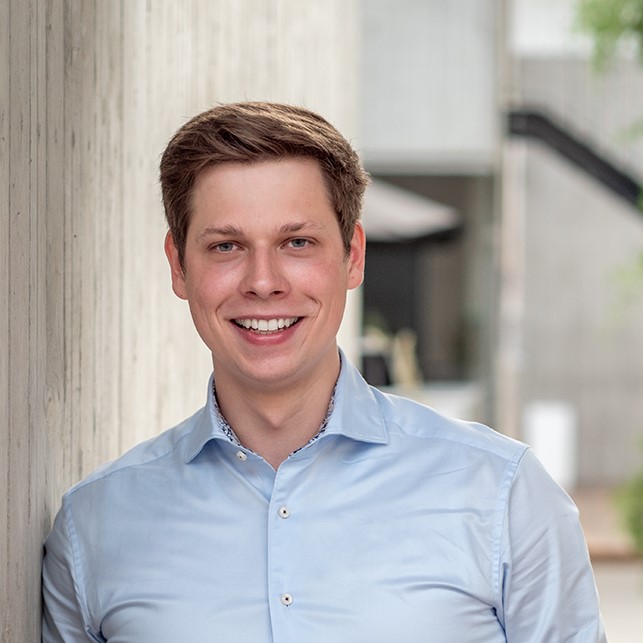 Julian Erdmann
GSI Alliance Manager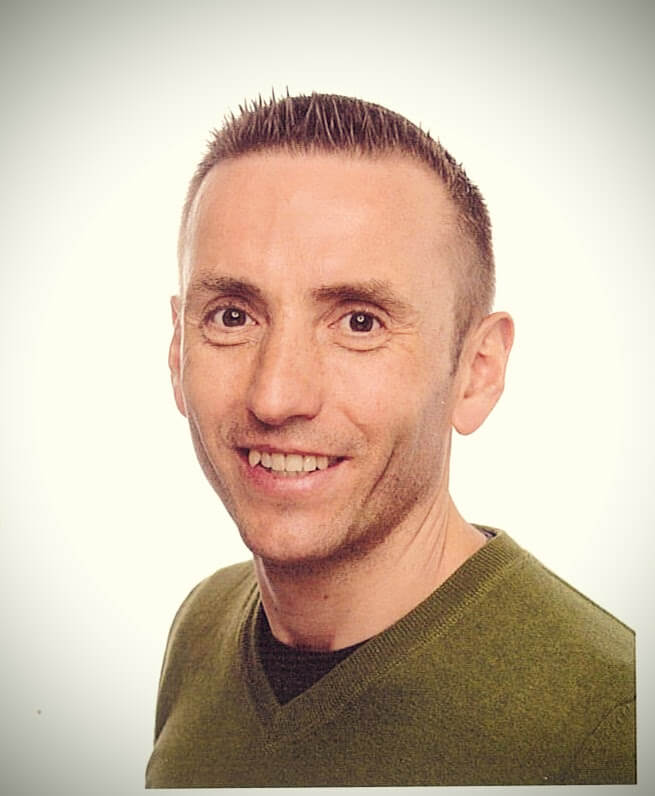 Mykola Parkhomenko
Key Account Manager
Related Products
Find out how our edge-to-cloud connectivity solutions make the IIoT work for you