Optimizing Today's Transportation Solutions for a Smarter and Safer Tomorrow
See Moxa ITS Solutions in Action
Want to achieve similar results for your business?
Contact us today to explore how Moxa's solutions can benefit your business
Efficient, Safe, Secure, and Sustainable
Intelligent Transportation Systems (ITS) rely on uninterrupted network connectivity to provide real-time information to operators and improve traffic safety and efficiency. Data for traffic flow, speed, density, as well as weather conditions and surveillance videos needs to be transmitted in real-time to ensure safety and smooth flow of traffic.
Moxa's comprehensive portfolio of secure high-bandwidth solutions enables data-rich ITS applications and improves digital connectivity. As a result, the world's most cutting-edge and advanced transportation projects rely on Moxa's solutions. We adhere to ITS best practices and our solutions are compatible with NEMA TS2 industry standards.
EDS (G)4000 series
Layer 2 Managed Switches
Certifications: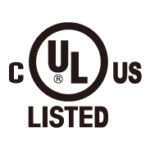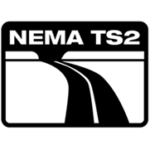 Moxa provides the world's first IEC 62443-4-2 certified networking devices by IECEE for a secure and reliable installation. With its modular power supply design and intuitive user interface it is a futureproof solution for all customers who appreciate ease of use and hassle-free, yet secure installation and operation.
Compact and flexible housing design to fit into confined spaces

Web-based GUI for easy device configuration and management

Port diagnostics with statistics to detect and prevent issues

Multi-language web GUI: English, Traditional Chinese, Simplified Chinese, Japanese, German, and French

Supports RSTP/STP for network redundancy

Supports MRP client redundancy based on IEC 62439-2 to ensure high network availability

EtherNet/IP, PROFINET, and Modbus TCP industrial protocols supported for easy integration and monitoring in automation HMI/SCADA systems

IP port binding to ensure critical devices can be replaced quickly without reassigning the IP Address

Rotary DIP switch can perform profile-based settings without using a web browser

Security features based on IEC 62443
Contact us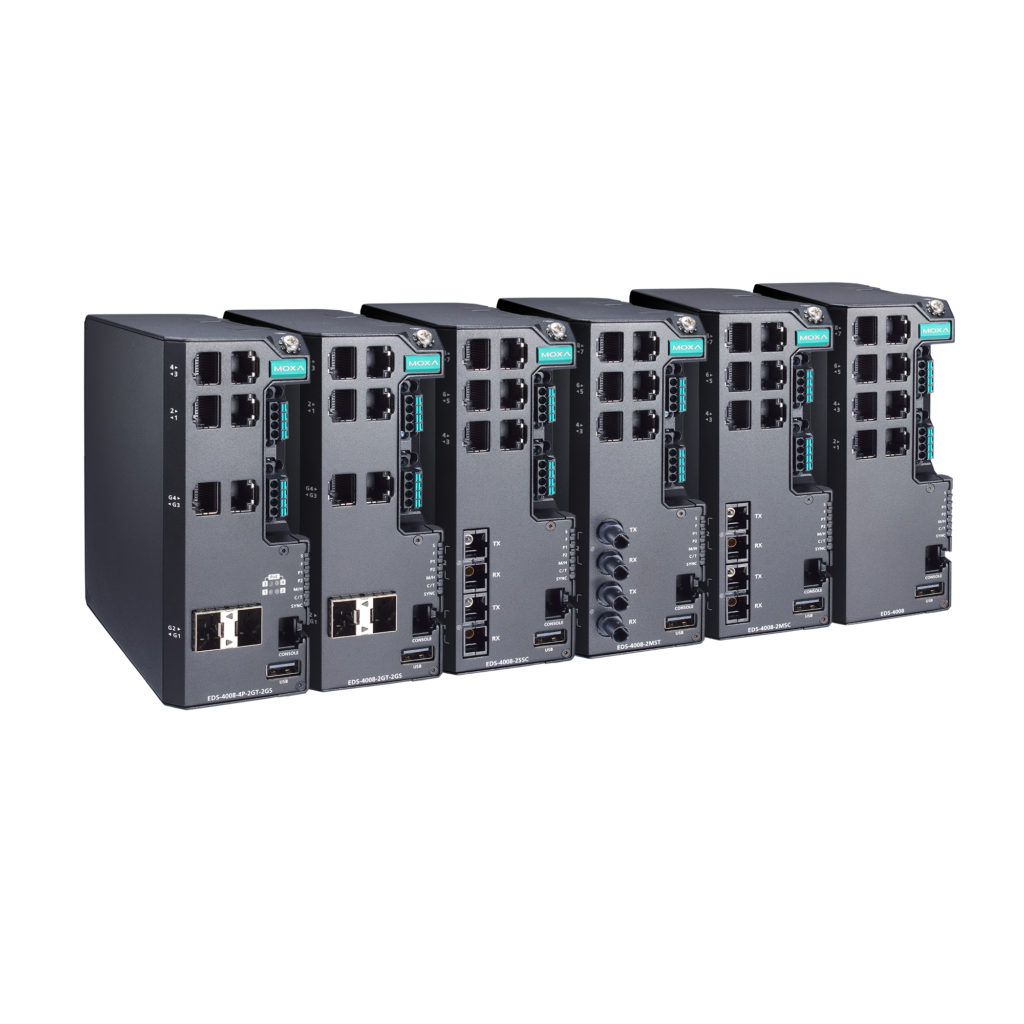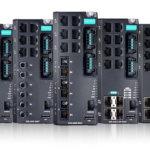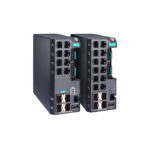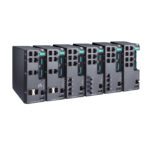 IEC-G102-BP Series
Industrial Intrusion Prevention System (IPS) Device
Certifications: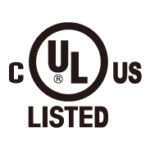 Moxa's ultra-compact deep packet inspection device IEC-G102-BP, protects mission-critical assets at OT network edge with industrial-grade IPS technology and fine-grained industrial protocol filtering.
Features and Benefits:
Ultra-compact industrial security box with IPS/IDS

Granular policy enforcement with whitelisting control

LAN Bypass design to prevent a single point of failure and traffic overloading

Bump-in-the-wire installation without impacting the network
Contact us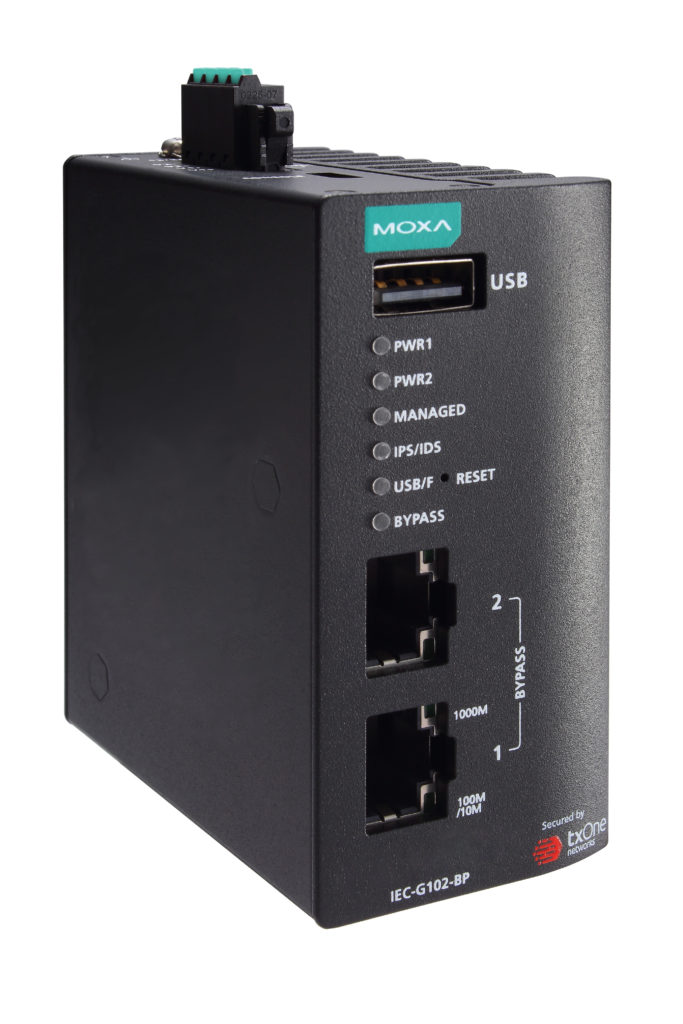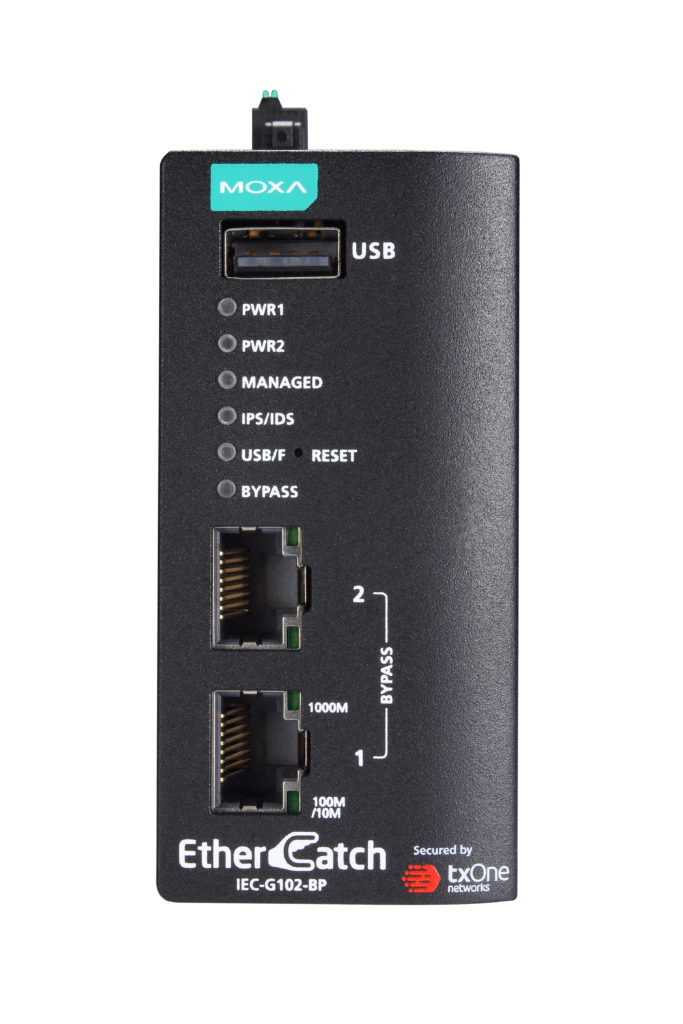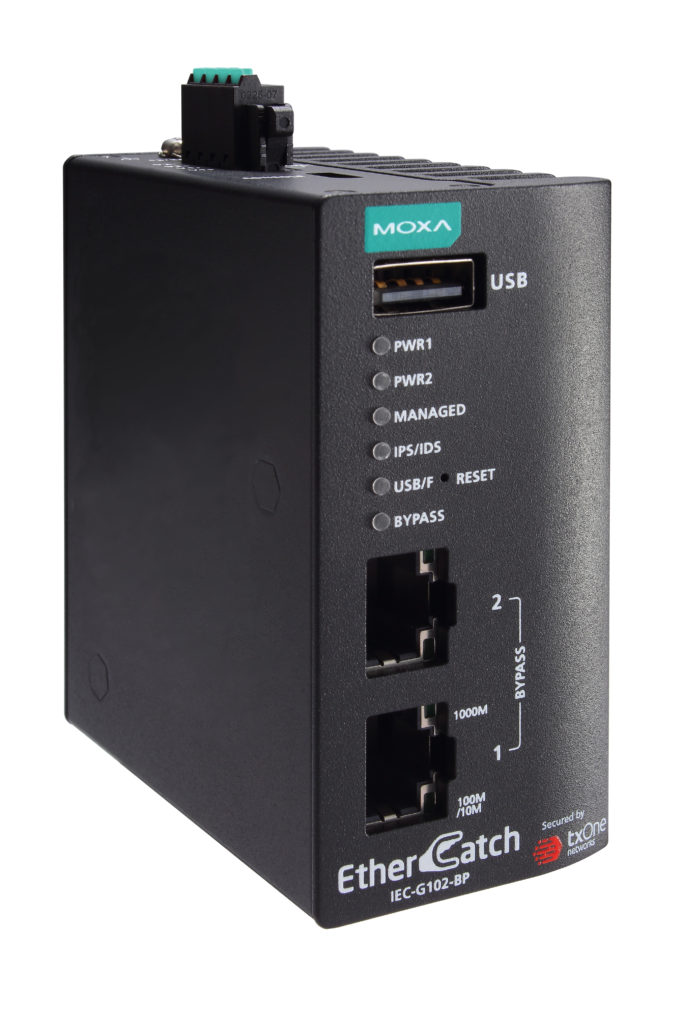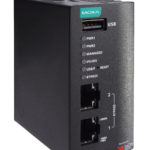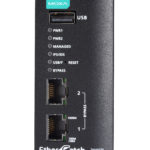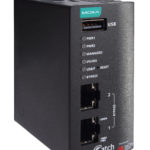 EDR-G9010 Series-ITS
Secure Router-EDR-G9010 
Certifications: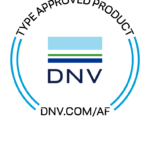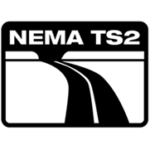 High security meets high throughput! Moxa offers an all-in-one firewall/NAT/VPN/router with managed Layer 2 switch functions. Device provides a strong security perimeter to protect critical systems and network segments, at the same time ensuring network infrastructure stability and availability.
Features and Benefits:
All-in-one firewall/NAT/VPN/router/switch with 10 GbE ports

Secure remote access tunnel with VPN

Stateful firewall protects critical assets

Examine industrial protocol data with Deep Packet Inspection (DPI) technology

Easy network setup with Network Address Translation (NAT)

RSTP/Turbo Ring redundant protocol enhances network redundancy

Security features based on IEC 62443/NERC CIP

Supports secure boot for checking system integrity

Check firewall settings with the intelligent SettingCheck feature

-40 to 75°C operating temperature range (-T model)
Contact us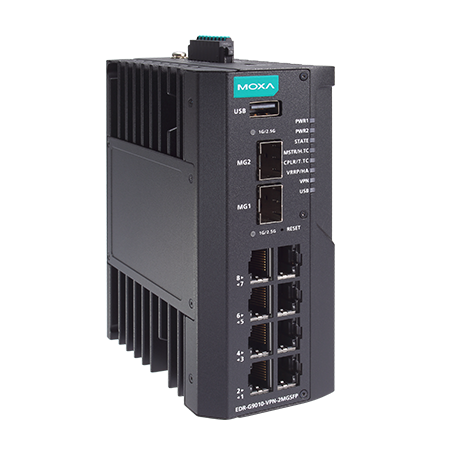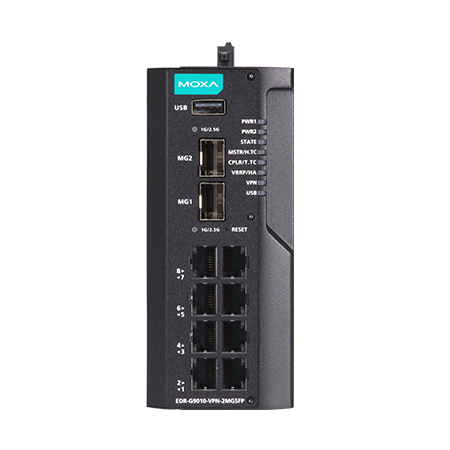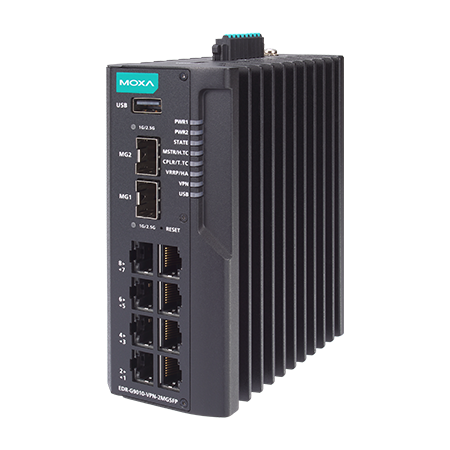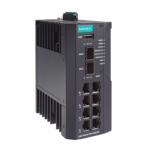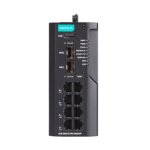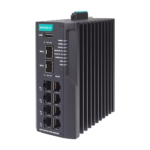 Cybersecurity
DPI
firewall
NAT
secure router
VPN
RKS (G)4000 series
Layer 2 Managed Switches
Certifications: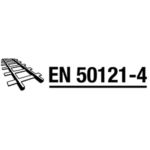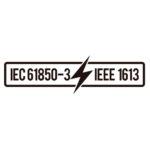 The RKS-G4000 series is an IEC 62443-4-2 certified secure rackmount switch for high density backbones. The modular design and versatile power supplies from 24VDC to redundant 220 VDC/VAC increase the reliability of customer communications, makes network planning easy, and save on wiring costs.
Meets a wide range of demands from Fast Ethernet to full Gigabit industrial networks (up to 28 Gigabit ports)

Modular interfaces for flexible connector type combinations

Support for IEEE 802.3bt PoE for up to 90 W output per port

High EMC immunity compliant with IEC 61850-3 and IEEE 1613

Hardware-based IEEE 1588 PTP for high-precision time synchronization

Turbo Ring and Turbo Chain (recovery time < 20 ms @ 250 switches)  , and STP/RSTP/MSTP for network redundancy

-40 to 75°C operating temperature range

Supports MXstudio for easy, visualized industrial network management

Developed according to the IEC 62443-4-1 and compliant with the IEC 62443-4-2 industrial cybersecurity standards
Contact us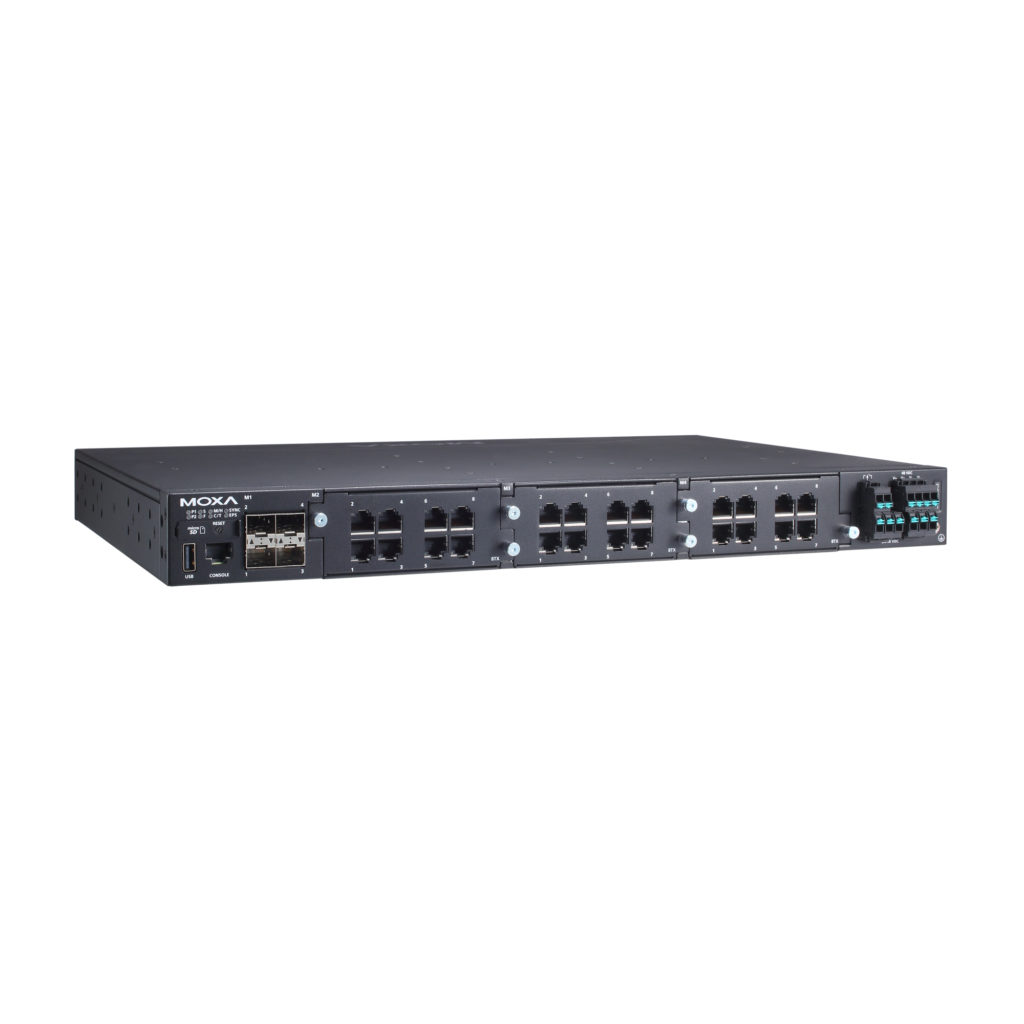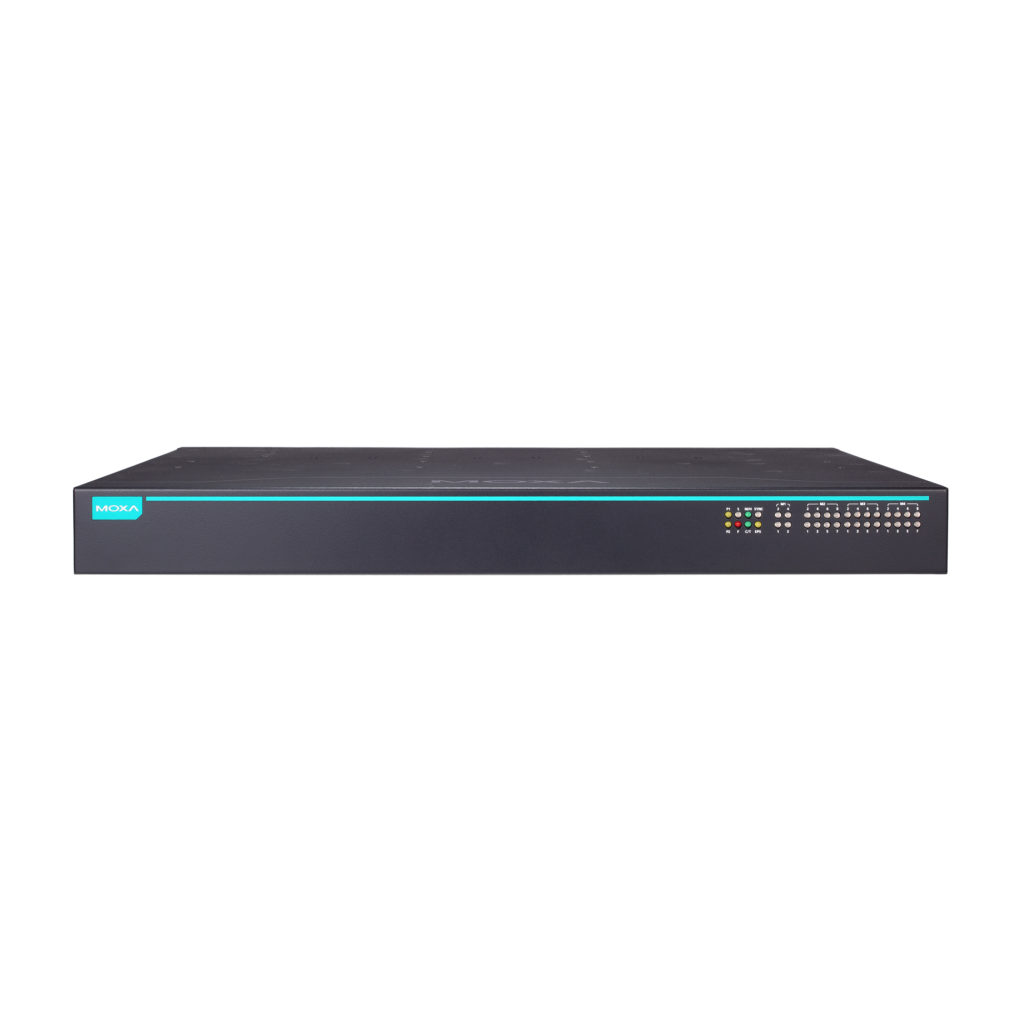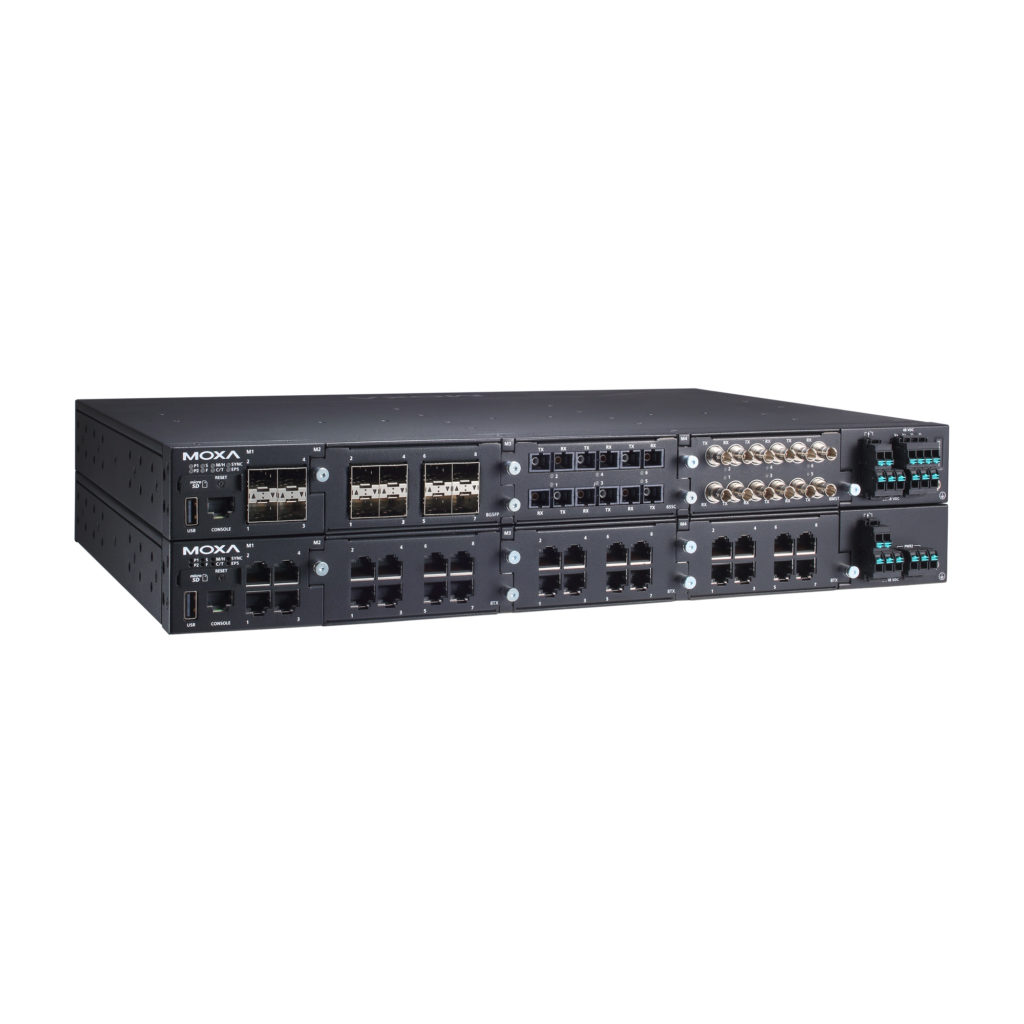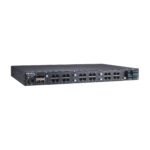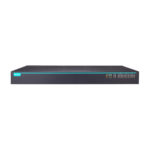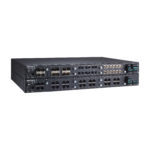 Moxa Intelligent Transportation Solutions
Tailored solutions to overcome the unique challenges facing specific demanding environments
Application Notes & Blueprints